Digital marketing strategies that help convert leads into paying customers. Creating an effective digital marketing campaign to attract customers can be tricky if you are unfamiliar with inbound marketing strategies that use data analytics and buyer personas to best cater to your audience.
Inbound marketing is a methodology that attracts high-value customers by offering valuable content and experiences that interest them. SiteNED combines inbound marketing through digital channels to help boost your business brand on various platforms including your website, social media, email marketing, and more.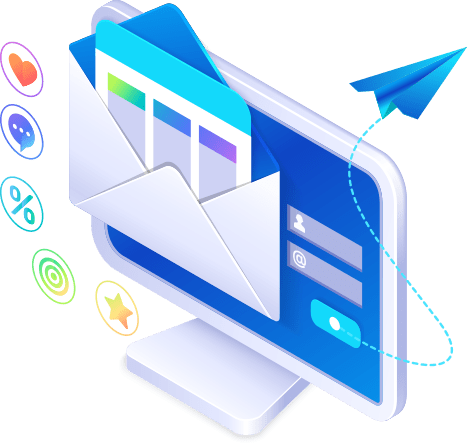 One of the most important assets of digital marketing is having a content-rich blog that is helpful to your target audience. People search the web for solutions to problems they are currently facing. For example, a business struggling to get noticed may look up tips on generating leads using social media. If your blog can help your audience, they are more likely to trust your business and convert into a paying customer. While you may not see immediate results, ensuring that your blog provides up-to-date useful information will drastically improve your digital marketing efforts and build loyalty among your audience. Not sure how to write an effective blog to hook your audience? We offer customized blog content writing that is relevant to your business.
An effective channel to market your product or services is email marketing. Many businesses today have a newsletter that users can subscribe to by inputting their email through the company website. Newsletters allow companies to engage with prospective customers by promoting content or promotions that might interest them. It's also a great way to retarget previous customers! Customers that are already familiar with a brand are more likely to purchase again which makes email marketing very effective. SiteNED will set up your email marketing newsletter so you can begin building a high-value customer base.
The bread and butter of digital marketing is maintaining an effective social media presence. Nowadays, everyone uses social media which makes it the perfect channel to market your products and services. Starting a social media account is free, easy, and an effective way to connect with your target audience. Growing a social media following helps to build credibility and promote content for your brand. Posts go directly to your audience's feed and sometimes even notify them on their phone. Despite social media being the most dominant platform to share information about your business updates, many companies do not regularly post on their pages. SiteNED can help grow your social media following by posting on your company's behalf so you can spend more time managing your business.
Sometimes organic channels of marketing aren't enough to meet your business goals. Finding brand success in the digital world can come through paid advertising. According to Forbes, "Digital marketing experts estimate that most Americans are exposed to around 4,000 to 10,000 ads each day." PPC stands for pay-per-click, a digital marketing strategy in which advertisers pay a fee each time one of their ads is clicked. It's a way of buying visits to your site, rather than attempting to "earn" those visits organically. Many companies find great success in PPC advertising, providing a high Return on Ad Spend (ROAS), a key metric to successful PPC campaigns. SiteNED can help create your advertisements on social media to help grow user traffic to your website and generate leads.
Got Questions?
Contact Us